The Unique Abilities Of Komatsu Hybrid Excavator HB335LC-1
Wednesday, 17 September 2014 11:23
Ethan Fox
Komatsu excavators are world-wide recognized as being very fuel-efficient, but Komatsu hybrid excavators are even more fuel-efficient and they are becoming very popular around the world. Komatsu has developed a reliable Hybrid technology, featuring a Komatsu diesel engine, a generator and electric motors, able to convert into both hydraulic and electrical energy. The newest hybrid excavator by Komatsu is HB335LC-1, incorporated with the proven Komatsu hybrid technology. The award-winner HB335LC-1 features the same slew-energy regeneration system as on Komatsu 20-tonne class Hybrid excavators. Komatsu HB335LC-1 falls into the 35-tonne class excavators and is preliminary designed for the Australian market, because this class is of higher demand.
Since the release of the first 20-tonne class Hybrid Komatsu excavators, customers have been asking for a 35-tonne class Hybrid excavator. Komatsu delivered and it delivered with a high-quality excavator. Extremely powerful yet environment-friendly, Komatsu HB335LC-1 has a unique combination of features that contribute to incredible fuel savings, reduced operating costs and environmental benefits. Depending on application, this 35-tonne excavator provides the operators with a reduced fuel consumption of 20%. Despite the Hybrid technology, Komatsu Hybrid excavators are basically same as the conventional Komatsu excavators, in terms of operating and travel speed, breakout force, capacity and others.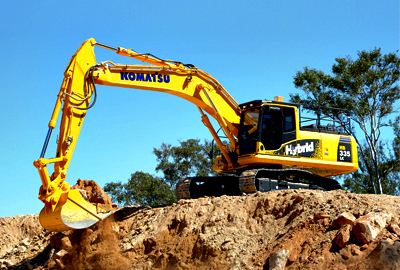 Owners of Hybrid Komatsu excavators point out that the levels of production, reliability and incredible performance are same as the ordinary Komatsu excavators. This means that the potential buyers of Komatsu Hybrid excavators can be sure that they invest in a proven concept, successfully and efficiently used by millions of operators on a daily basis. The engine of these excavators has a unique ability to provide power on demand, using only the engine RPM required for a given operation. Also, the Komatsu HB335LC-1 offers a low idle speed of 700 rpm, which is yet another fuel saving feature.
Komatsu HB335LC-1 features a Tier III-compliant Komatsu diesel engine that provides 189 kW @ 1950 RPM. Featuring a hydraulic pump type six-mode system, called HydraMind system, the operating weight of this excavator is 35 tonnes. The standard Hybrid Komatsu excavators come with a heavy-duty bucket, heavy-duty arm and a maximum digging reach of 11,100 mm. The maximum travel speed is 5.5 km/h and is automatically controlled. This powerful engine does not require a specific nor complex maintenance and all Hybrid components have a 4-year (10,00 hour) warranty.
In terms of comfort, convenience and safety for the operators, the Komatsu HB335LC-1 comes with a high-quality cabin with lots of unique features. The new high-resolution LCD monitor is 7" and displays some vital information, including average fuel consumption and fuel consumption gauge for energy saving, ECO-gauge and ECO guidance in real time.