A Comprehensive Guide to Picking the Ideal Bed for Your Dog
Thursday, 18 June 2020 12:30
Ethan Fox
Comfortable bedding is important for dogs, not just for providing them with a comfy sleep surface, but also for creating a personal safe space they can call their own. Just like dogs, dog beds are available in a wide range of shapes and sizes. Picking a model based on your dog's specific dimensions is important for optimal support and comfort. Many dog beds and covers are also designed to minimise odour. Some of the most popular styles are doughnut-shaped and burrowing dog beds, as well as orthopedic cushions and sofas made for older dogs and larger breeds that experience joint pain. While some dog beds can cost a few hundred dollars, there are options for budget-minded shoppers that go for $100 or less.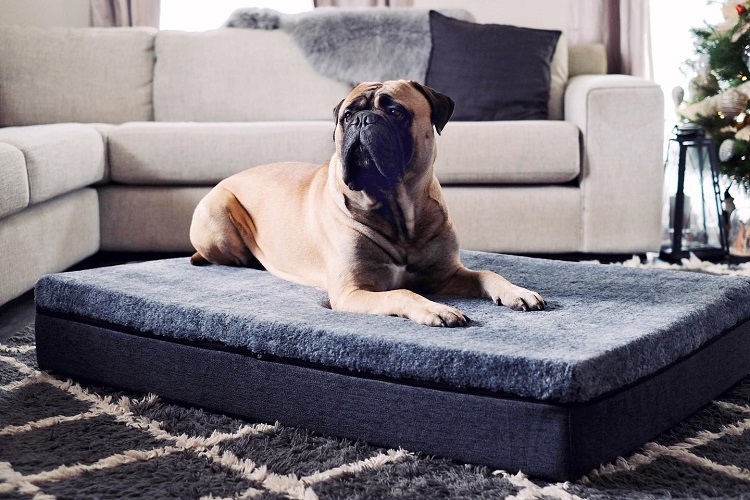 This guide will discuss the typical characteristics, functions, features and pet accessories that come with dog beds so that you can make a well-informed buying decision. Some of the most important factors you'll have to take into consideration are the dog's size, breed, age, medical history and fur output. Dog beds feature two main components – the cushioning (filling), and outer cover.
The most common filling materials are memory foam, support foam, cedar and poly fibre. Memory foam is also sold under the name 'orthopedic foam', and it's a material that softens when it comes in contact with your dog's body heat. This type of filling can be either one solid, single piece or shredded. Support foam is the more affordable alternative to memory foam that doesn't soften with body heat, which makes it unsuitable for dogs with orthopedic problems. Polyfiber provides a similar feel to bean bags, dispersing and conforming to the dog's figure for a more personalised fit. This type of filling may not be supportive enough for heavy dogs. Lastly, cedar shaving or chip fillings are often combined with poly fibre for extra cushioning. While cedar is less comfortable than the other options, it repels fleas and odour naturally.
Dog beds almost always come with dog bed covers that are zip-off removable and machine washable to reduce odour. The most popular materials for making these pet accessories are cotton, polyester, fleece and faux suede. But no matter the type of cover you choose, you should never machine wash the filling of the dog bed. Washing foams, poly fibres and cedar can damage the bed and make it irreparable. Dog beds are also available with lining or bases made from waterproof materials like nylon or polyester denier. This makes sure the bed doesn't soak through completely if the dog relieves himself. The term 'denier' refers to the thickness of the material's threads or fibres and is expressed in grams of a 9.000-metre strand of thread or fibre.
There are a couple of different dog bed styles available, and there are also some designed for specific sizes and breeds.
Pillow beds, also known as 'cushion beds' feature a flat, even surface and aren't raised on the sides. Most pillow beds are rectangular and resemble mattresses. However, there are square and circular-shaped models as well.
Bagel/donut beds are circular and feature elevated sidewalls around their circumference. They are beneficial for dogs that get chilly as the raised wall helps minimise drafts.
Sofa beds mimic the look of standard sofas and are available in one or more cushioned surfaces, an elevated back wall and one or two raised arms. Some models come with pillows as well.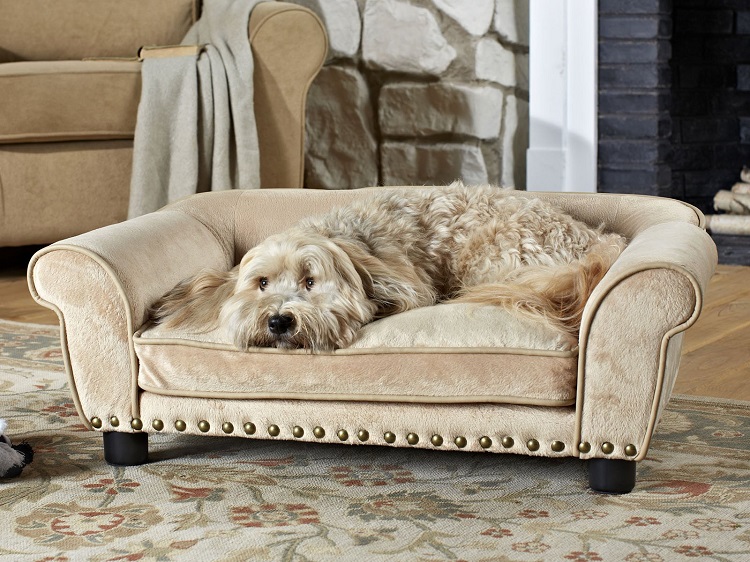 Orthopedic beds provide targeted pressure point relief and support for dogs that experience chronic joint pain. These beds are usually thicker and come with extra cushioning to accommodate thinner dogs with prominent bone structures. They usually come with waterproof components to accommodate elderly dogs that are susceptible to incontinence and joint pain.
Burrowing beds are also known as 'nest beds', and they're pita-shaped models with an opening on one side, allowing your dog to crawl inside to stay warm. Many models feature a fleece lining in the pocket for additional insulation.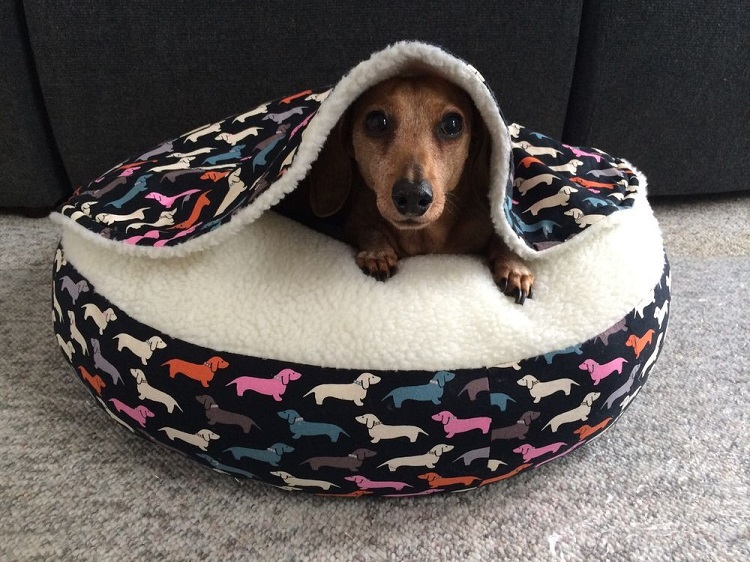 Next, you have to consider the size of the bed. Dog beds are specifically designed for dogs of certain weights and sizes, although there are models available in multiple sizes. As an owner, you should take time to measure your dog in a sprawled-out position to figure out what the appropriate dog bed size is for him. Otherwise, the dog's limbs, head and other body parts may slide over the edges, causing discomfort, pain and the developing of pressure points.
Lastly, you have to consider how much fur your dog has, how old it is, and what breed it is. Older dogs usually sleep more, so they may need a more durable bed that won't give to wear and tear too quickly. Further, elderly dogs are more susceptible to joint pain, so they'll need the extra cushioning from an orthopedic bed with support foam filling. If your dog sheds a lot, you'll want a bed that's easy to clean up and has removable and washable covers.