Tips on Buying the Right Pair of Snowboarding Boots
Thursday, 23 April 2020 09:21
Ava Anderson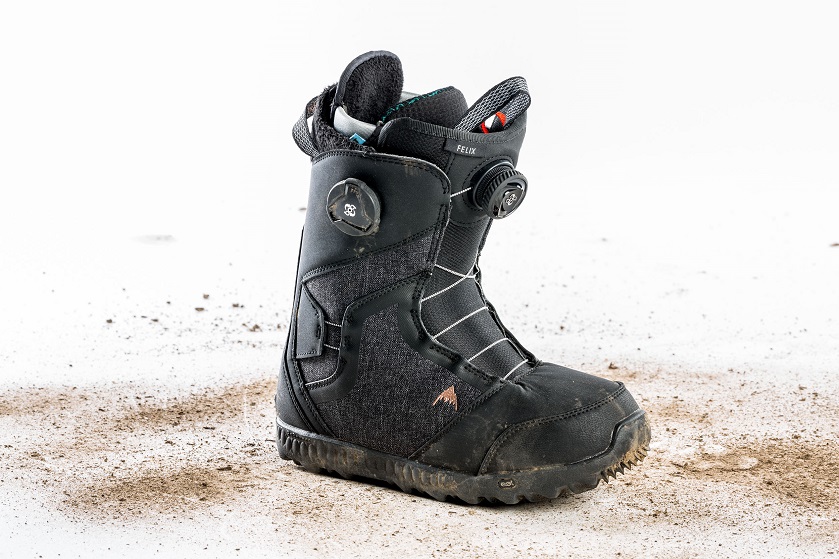 The snowboard boots you wear when going down the mountain can impact your performance and comfort. Renting snowboarding boots the first few times is great and all, but if you're drawn to the sport you'll need to get a pair of your own. Having your own setup will help you progress much faster, and wearing your own boots feels much better than the sloppy old rentals that have been worn by hundreds of other boarders. The boots can easily make or break your experience on the mountain, and there's nothing worse than feeling uncomfortable and cold while you're trying to enjoy yourself. With that said, when buying boots for snowboarding, you need to consider the appropriate ability level, your riding style, quality and flex pattern.
The Anatomy of Snowboard Boots
Most snowboard boots contain two main parts – a liner and a shell. The shell is the outer, rigid section which provides your foot with flex, support and control. The liner is the internal, soft section that moulds to your foot to keep it secure and comfortable. The liner and shell work together with the other features of the boots, such as the footbed, the backstay, sole and lacing system to give it different qualities.
The footbed, also known as the insole, has the biggest impact on performance and comfort out of all features. Affordable boots usually have basic footbeds that aren't anything more than thin foam, offering minimal support. Quality boots for snowboarding offer ergonomic footbeds that provide much more support and include different materials, such as EVA foam for extra comfort.
The sole on the snowboard boot has two key functions – comfort and grip. Your boots need to grip well so that you don't end up spread on the floor and so that you can dash around with only one foot strapped. The soles on the snowboarding boots feature tough tread patterns that provide grip on tarmac, snow, ice and even concrete.
The backstay of the boot is the vertical part at the back. It provides the boot with a specific flex patter and provides support. Freeride boots usually have a much stiffer backstay, whereas jib specific, freestyle boots have a softer flex. Stiff backstays make the boot more responsive, which is what advanced riders want for precision and performance. Soft backstays make the boot more tweakable, which allows beginners to do presses and grabs, as it makes the boot more forgiving and easier for control.
Lastly, the tongue of the boot also affects the flex pattern. If the tongue is stiffer, it will make the boot more responsive. If it's softer, it will be easier to use. Some high-end boots feature adjustable tongue flex beams that you can remove or add from the boot. How tight you do your laces also affect the flex of the boot. Some people prefer to be loose at the top for extra freedom of movement and tweakability.
Snowboard Boots Lacing Systems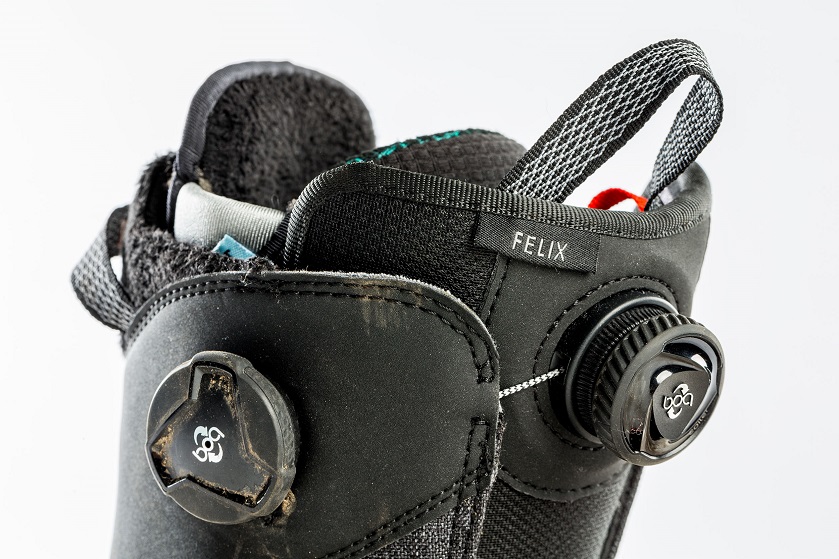 Traditional snowboard boot laces are just like the laces on your favourite sneakers, and they're considered the most easily replaced and reliable lacing method. As long as you have an extra pair of laces with you, you don't need to worry about lace failure. Traditional laces are cheaper than other types of laces, as they have fewer parts, meaning there are also fewer things to go wrong. Many experienced riders prefer traditional laces, simply because they allow a fully custom fit for your boots. The only downside is that they can loosen throughout the course of the day, and it can be more difficult to do them up if you prefer your boots tight.
Speed lacing systems, on the other hand, are for people who just don't want to be bothered with dealing with laces. If you want to get out on the mountain, throw your boots on and start boarding, these laces are for you. Speed laced boots are very easy and straightforward to put on and remove. Different manufacturers have different types of speed lace systems that are named uniquely, but they're all very similar in nature. They all use a tough, yet thin lace that's made from reinforced nylon. The most common way to lock the laces into place is with locking levers or plastic cleats.
Riding Style and Ability Level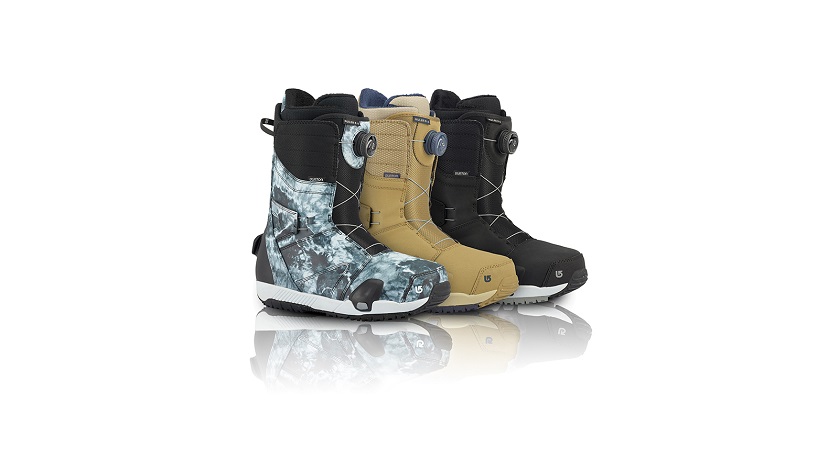 Beginners are best off with a soft boot to provide them with more a larger range of tolerance in which movement may result in the board turning without catching an edge. This allows beginners to learn to control their board without getting punished for small mistakes. Soft boots are better for park and freestyle riding, as you have more movement in the ankles to tweak presses and grabs. Landing jumps will also be more comfortable, but if you're performing jumps frequently, look out for impact dampening soles and air pockets to lessen the force of impact.
Experienced riders who partake in all-mountain and freeride snowboarding are better off with a stiff boot so they can maneuver precisely at high speeds. Deep snow and technical lines also require a stiff boot that is made of rigid materials and advanced makeup so that you can transfer power and weight quickly and accurately, even in the most demanding situations.