Timber: Top Choice for Affordable Patio Furniture
Tuesday, 17 May 2016 10:19
Ava Anderson
When the topic of discussion is modern furniture, whether for patio or your living room, the first thing people instantly think of are trendy pieces they see on web sites or in interior design magazines. And while there is nothing wrong with trendy, your budget probably doesn't allow you to change furniture that often; after all, it's not socks we're talking about. When it comes to furniture elements, one must have in mind that we buy them to last, not to pass. Therefore, finding affordable modern furniture would come down to careful analysis of material properties and quality, looks and styling possibilities, price and maintenance.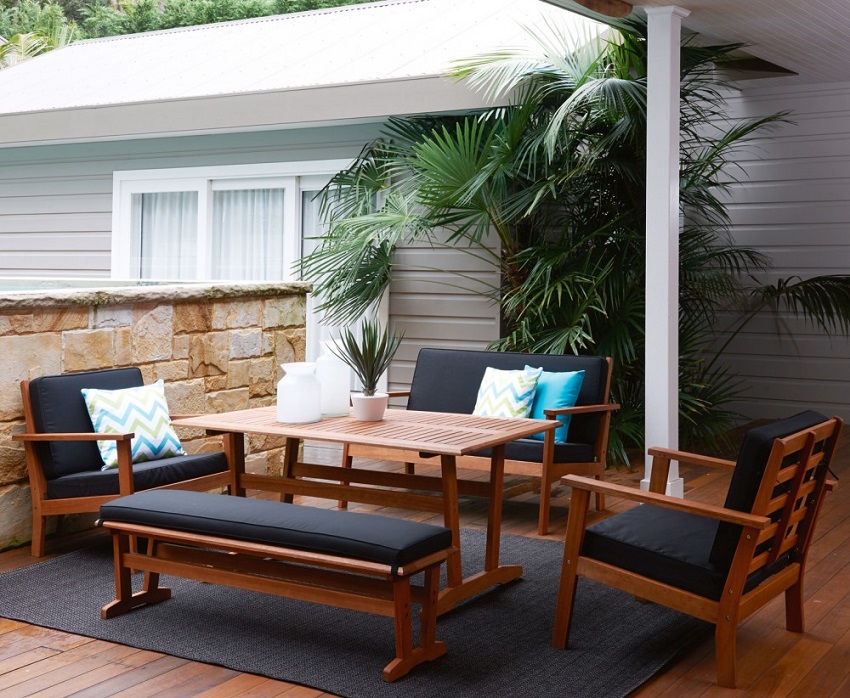 The accent of this post will be on affordable modern furniture for the patio; while the interior should always be in top shape with careful placement of every piece of furnishing, decoration and choice of colour, the exterior makes the first impression of you as a host, as a homeowner and as a person with taste and style, so even bigger attention should be given to the patio area. After careful research, I've concluded that the best material your patio furniture should be made of is timber. Patio furniture made of timber is a rather solid investment. Here's why:
Timber's natural properties contribute to a bigger quality of furniture
When we talk about high quality patio furniture, we think of pieces that can withstand all weather conditions and won't be damaged after the first rain or go pale and old after a few days under a burning sun. Due to the oils and rubber that are locked into the grain of the wood, timber has its own natural protection against many damaging factors: water, sun and insects. The oils and rubber combined waterproof the wood, so the furniture is able to withstand heavy rains. The oils also offer a protective layer against dry rot, which is often a problem for older wooden furniture. And finally, fungi and parasites can't reach the heart of the wood and destroy it; the oils and rubber protect it from it.
Yes, timber is expensive. But…
Due to its many amazing qualities and properties, timber has a relatively high price. Most people would instantly put it aside, but I'd say those people are making a huge mistake from the very beginning. Think of it this way: affordable modern furniture of great quality and durability is more of an investment than a simple purchase. Don't forget that you're buying this patio set to serve you a long time, not just for one season. Therefore, it's very worth it to safe a few dollars for that timber patio set.
It's easy to maintain timber
Timber is a durable material, so you won't really need to put that much effort into maintaining it. Once or twice a year is enough for removing dirt, dust and possible stains. If stains like red wine or barbecue sauce ever end up on your timber furniture, you may need to use a special cleanser for timber which you can get in a specialized store for cleaning supplies. As for maintaining the colour, you can always use oils to coat timber. Timber eventually changes its colour from honey brown to silvery grey, so if you want to keep the colour you can just oil timber or use specialized products for sealing.