The Best Materials for Your Outdoor Furniture Based on Where You Live
Wednesday, 03 July 2019 12:25
Ava Anderson
From lounge chairs to patio dining sets, outdoor furniture comes in all sizes, shapes, and styles designed to withstand the elements. Style is one thing, but the material is another very important aspect that should be considered when looking to buy outdoor furniture. Different materials are able to withstand different elements, so make sure you choose pieces that will be most suitable for the climate in the area you live in.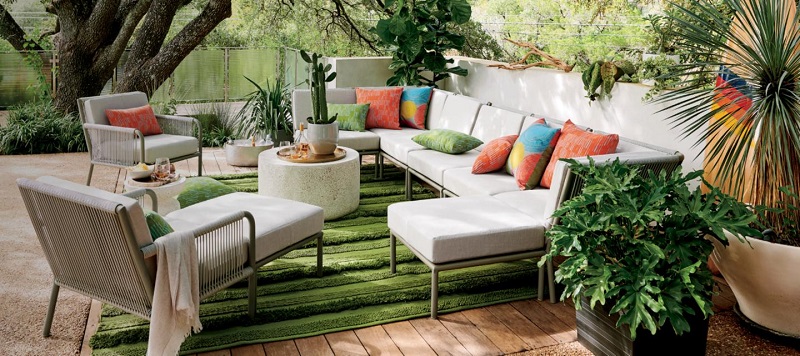 Resin Wicker
Rattan and cane are the most common materials used to make wicker furniture and the term 'wicker' actually refers to the woven style and not the material used. This type of outdoor furniture is suitable for all kinds of weather and it is long-lasting, which makes it the perfect choice for any climate. This weather-resistant synthetic fiber is wave wrapped over a metal frame, which makes it look rather traditional, giving a homey feel to your outdoor space. Resin wicker is usually made with thin strands of high-density polyethylene, nylon or PVC, which makes it a more durable option than traditional wicker furniture. High-end resin furniture is UV-resistant, which means it won't crack or fade even after prolonged sun exposure. It can withstand humidity, sunlight, and rain perfectly well and it is easy to care for. To clean it, just spray it with water and let it air dry. if you are not sure about the sunlight resistance, you can keep it in the shaded area.
Aluminium
Aluminium is another popular material choice when it comes to patio furniture and with a good reason. It is resistant to moisture damage better than any other material, it is also resistant to rust and if you powder coated the finish – you can be sure your furniture will withstand the elements without an issue. Aluminium is lightweight yet durable and that's what makes it easy to store and move around. The most lightweight option is tubular aluminium while cast and wrought aluminium are heavy enough to withstand severe weather conditions like strong winds. Aluminium furniture can withstand sunlight, extreme temperatures, and rain and doesn't require much maintenance. Just spray it with water and a mild soap mixture to remove dirt and dust.
Wood
The most common characteristic of patio furniture made of wood is the ageless appeal of its natural beauty. These pieces can be made of different woods such as fir, cedar or pine – softer woods with some level of natural weather resistance. Or, it can be also made from teak or shorea – hardwoods that have exceptional performance and durability. If you decide to decorate your patio with wooden furniture, this will add a warm, casual feel to your space. If sealed properly, wooden furniture can withstand rain but it can also stand up to sun exposure, humidity, and wind. If you go with wooden furniture, it's a good idea to use coasters, felt or pads to avoid the appearance of heat marks and moisture rings. If the wood is sealed, clean it with a mixture of water and mild soap or if it's painted, clean it with a damp cloth and avoid exposure to moisture. If you go for untreated wood, clean it with a lightly damp cloth.