Make Your Glassware Sparkle: Unique Cleaning Tips
Monday, 23 March 2015 10:50
Ethan Fox
Thought your dishwasher was doing its job properly, when actually you are left with cloudy glasses covered with a film? Kiss those dirty cloudy glasses goodbye and get clean, super sparkly glasses with our unique cleaning tips. Sometimes decorative and trimmed glasses are delicate and hard to clean in a dishwasher. Hand-washing would make a better choice. With the right cleaning techniques, your glassware will be good as new in just few minutes. No need to throw your money on commercial over-the-counter cleaning products, when you can use the things you have at home. Here's how you can clean your glassware like a pro.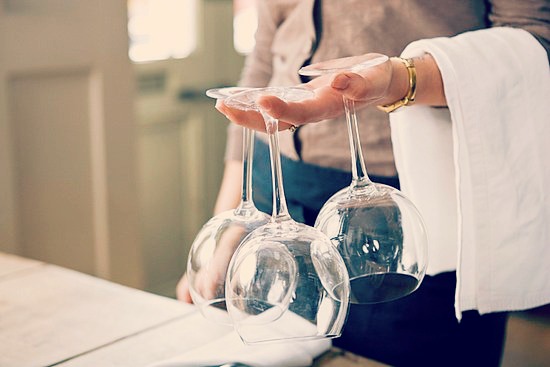 White Vinegar
Vinegar is every housewife's best friend. Commonly used to clean food (meats, fruits, vegetables), windows, tiles and faucets, but it can also make a perfect cleaning product for your cloudy glassware. Vinegar acts as a mild acid that cleans cloudy film on glasses perfectly. All you have to do is soak your glassware in a regular vinegar and warm water bath. Use a tooth brush to carefully remove limescale buildup, rinse with clean lukewarm water and leave glasses to air dry (do not dry with a towel).
Lemon
You surely always have lemons at home. Beside using this citrus fruit to make delicious lemonade and ice tea, use it to clean the nasty water lines and hard-water spots off your glasses. Plus, it's super simple. Cut one lemon in two, disregard the seeds and rub the lemon directly on the water spots. Rub until spots are gone. Then wash with soapy water, rinse and let glasses air dry.
Salt
Wondering how to get sticky grease off your glassware? Use salt. It can really help win the fight with greasy film on your glassware. First wet the glasses with water, then sprinkle salt along the surface. Use a tooth brush or a non-scratch sponge to remove oily blemishes, rinse and air dry. Your glasses will be clean and sparkly.
Used Tea Bags
Do you throw used tea bags? If yes, do not. Aside from the fact that used tea bags are your ally in treating dark under-eye circles, they are perfect for cleaning glassware. Place tea bags in a water and re-brew them for few seconds. Once cooled, place the tea in a washing tub together with your glasses. Leave for about 15 minutes then rub with a non-scratch sponge and rinse.