How to Choose an Outdoor Bed for Your Dog
Tuesday, 29 June 2021 10:01
Ava Anderson
Most of us love to sleep and snuggle with our pets but dog beds are still a necessity. Just like you need a good night's rest and a place to spread out comfortably, so does your dog.
Besides having a bed inside, on a dedicated spot in your home, your pup might prefer to spend those warm summer days and nights outside. An outside dog bed is essential because just like dog tracking collars or travel carriers keep your dog safe, a proper outdoor bed does that as well. These beds are elevated from the ground or are constructed of high-quality materials that don't allow any insects, dirt, mould, or pests to get in the bed and to your dog.

What to Look for in an Outdoor Dog Bed?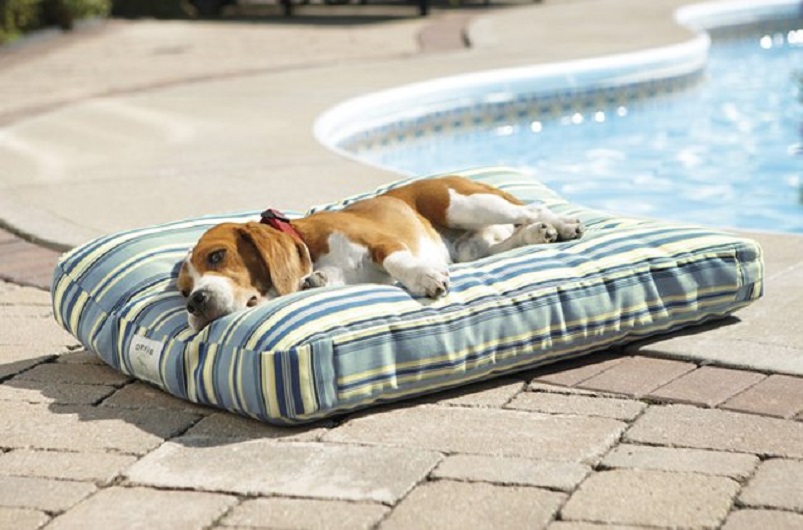 The Right Size
The bed needs to be the right size to fit your dog. The best way to make sure that you won't buy a too-small bed is to measure your pup from head to tail. The bed should be spacious enough so the dog can lie in a natural position and be able to stretch. If you're not sure, you can go a little bigger so you don't end up with a bed that restricts your dog's movements. Since beds come in a variety of sizes, there are suitable outdoor dog beds fit for any pupper.
Ease of Cleaning
You need something that's easy to clean. Look for a bed with removable covers or beds that are machine-washable. This will be of great help to keep fleas, hair, and dander at bay since it's important that you clean the bed frequently for your pet's and your health. Don't be fooled by a cheaper price because that can mean poor-quality beds that are a nightmare to clean.
Match the Exterior Décor
Depending on the place where you're going to put the bed, you might want it to match the surroundings. Maybe if that's the garden, you'd want to go for a bed that's made of more natural materials; if it's on the deck, you can incorporate it into the deck's décor so it doesn't seem out of place. Since outdoor dog beds come in numerous styles, materials, and colours, you will find the one that perfectly matches your exterior décor.
Various Types of Outdoor Dog Beds to Choose from
Elevated Dog Beds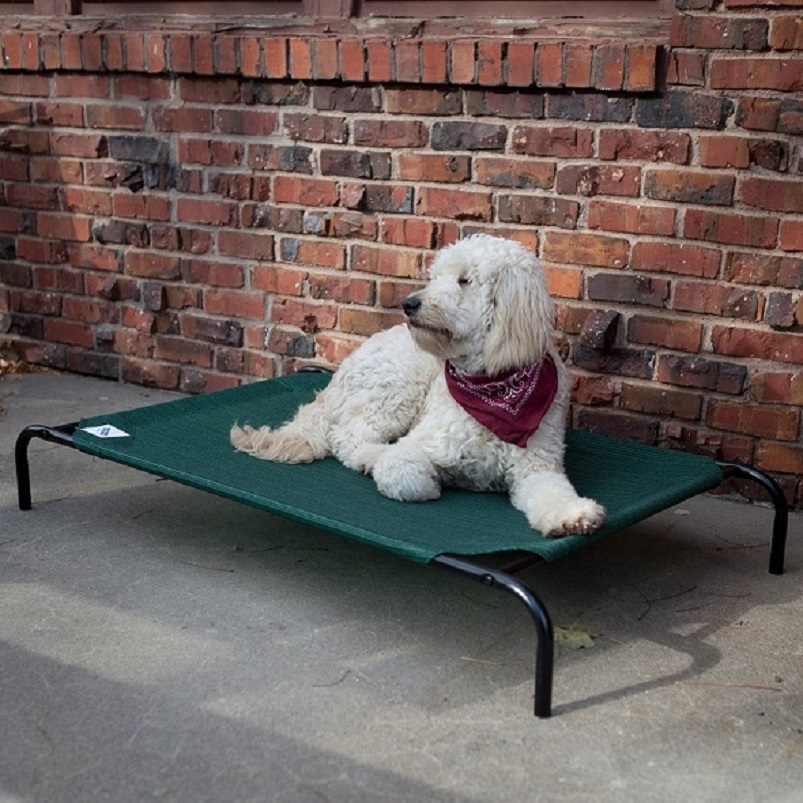 These are also known as raised beds and are the preferred ones because of their design. They are raised from the floor, usually with a metal frame, which means that your pup's body won't touch the dirty or cold ground. This also protects against insects and pests. The sleeping surface is made of sturdy material that's often a mesh panel that provides ventilation and cooling for your canine friend. The one downside is that this bed is not suitable for dogs with back problems or those with restricted movement because they wouldn't be able to get on and off the bed.
Orthopaedic Dog Beds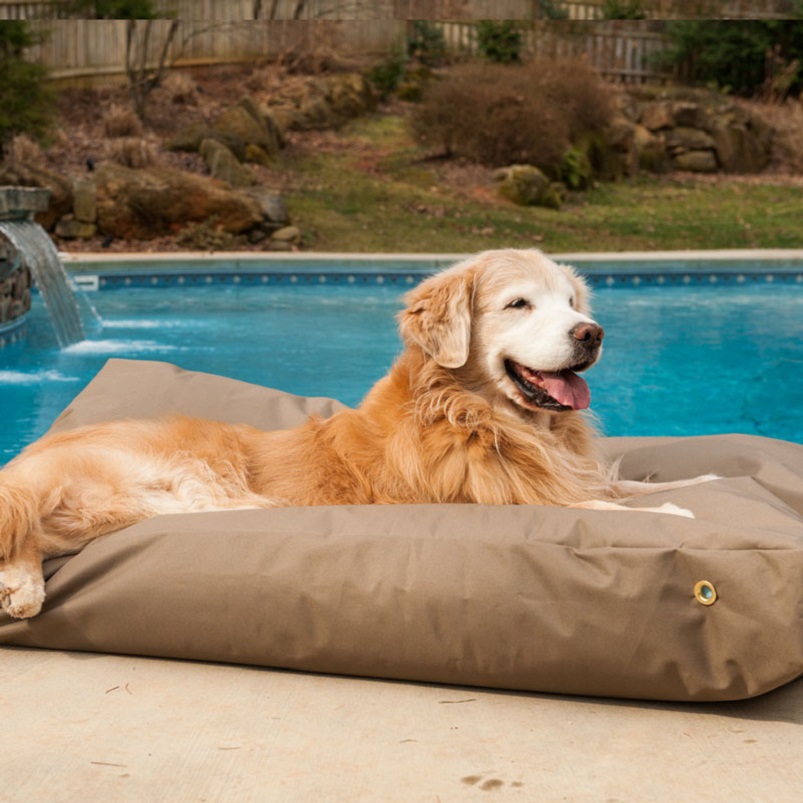 The outdoor orthopedic dog bed is specially made for older dogs, dogs with joint problems, or those that are naturally skinnier. It's made of orthopedic foam that distributes the dog's weight evenly and takes the pressure off their joints. They can be found in various shapes, each made to be as much comfortable and soothing as possible. They have removable covers that can be washed but the foam can be usually only spot cleaned. Some stores offer foams that can be replaced in case of damage.
Cooling Dog Beds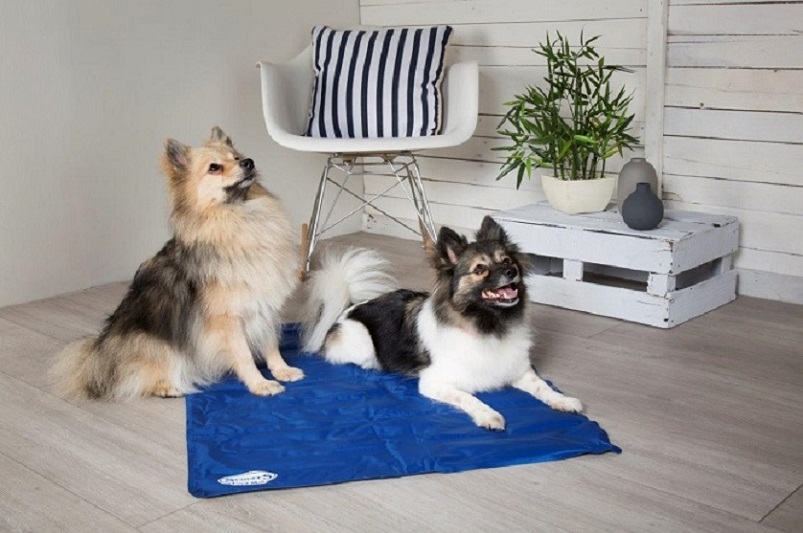 This dog bed is designed to provide a cooling effect. This is necessary for breeds with a tendency to overheat during the summer months. These beds are made of special materials and are typically filled with gel liquids or water to retain that coolness for a longer time. Different manufacturers use different methods to keep the bed cool, so it's best to follow the provided instructions on how to use and clean the bed.
Heated Dog Beds
The opposite of cooling is the heated outdoor pet bed. It might not be suitable for those sizzling hot days but it's definitely for the colder summer nights. They're also for dogs prone to hypothermia and those with joint pain. Orthopedic beds can also be heated for greater pain relief. They work on the same principles as electric blankets or pads, so it's essential that you follow the manufacturer's instructions on usage.
Travel Dog Beds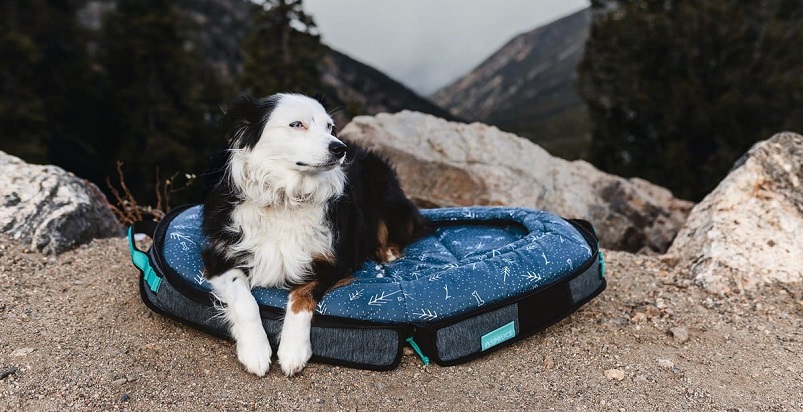 These beds are used for travelling because they're made to be light but sturdy. Some of them can look like a sleeping bag that's easy to fold and carry with you, while others can be made to fit the back of a car. They'll keep your car clean while travelling and serve as a place for sleeping when you get to your destination. Taking into consideration your needs, most of these dog beds are water-resistant and a breeze to clean.
Additional Considerations
When it comes to choosing the ideal bed, besides your doggo's size, there are several other things to consider.
Sleeping position – Just like us, dogs have several preferred positions that they tend to sleep in. If you watch them for a while, you'll notice all of them. Based on this, you can choose the shape of the outdoor dog lounger or bed. For instance, some pets may prefer to have their head elevated, so you need to look for a bed that has one or both sides raised.
Health condition – As mentioned, an orthopaedic bed may be more suitable for older dogs because it'll give them the support they need. Consider the other factors that might make sleeping and resting more enjoyable and easier for your pouch.
Habits – Dogs can develop different habits that aren't always welcome. Some like to scratch and others chew everything they can and even dog chews can't help. You need to take into accounts these habits because they'll determine the kind of material you're going to choose. Go for sturdy designs that aren't easily damaged and can take a lot of biting, chewing, and scratching.