Unique car seat covers
Monday, 05 August 2013 12:51
Ethan Fox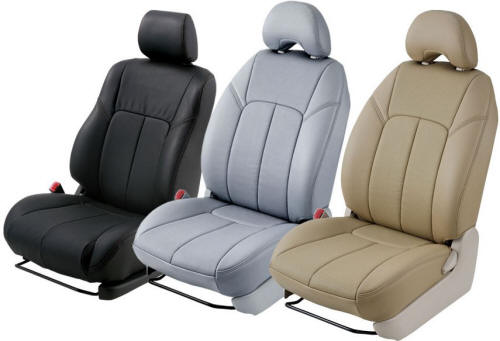 When we make a choice of buying a new car, we usually create an unusual closeness with this object of transportation. Suddenly, instead of worrying about more important things in our life, we become these obsessive car owners that will do anything to keep their cars in its original shape. First thing car owners do is search for different accessories to customize and preserve their car. Particular accessories of this type are car seat covers. It is always best to get seat covers once you buy the car in order to avoid taking it to the cleaners often because of spilled coffee or your dog's muddy paws artwork. Even though choosing seat covers may seem as a simple task at first, it is definitely 'no sweat' matter as they come in many different shapes and colors and are made from different materials. So, to make your choice easier, we will list all types of seat covers based on material, and will include tips on how to maintain them and keep them looking new.
Ballistic Nylon
Ballistic nylon is a familiar fabric used in military equipment and flak jackets worn in World War II. Today, car manufacturers have found another use for this strong material in the seat cover production process. The reasons why this material was chosen for such product are its water and UV proof abilities. They are very comfortable to sit on and can be easily cleaned from any kind of stains and spills.
Leather
Aside from the fact that some people use leather seat covers to show off or to accomplish that luxury look of their car, this ancient material has more benefits than some would think. Unlike other materials, leather car seat covers don't sink in liquids at all. Water or other spilled beverage will stay on top of leather and can easily be removed just by wiping it with a clean towel. One downside to leather covers is the overheating problem when exposed to sunlight all day, making them a bit uncomfortable in the summer.
Neoprene
This unique material also has water proof abilities when it comes to stains from coffee and other drinks. Its usage in scuba diving equipment shows the level of quality and how protective it can be for some tough-to-clean stains. Because of the named advantages it holds, neoprene seat covers have been largely used for off-road trucks and muddy roads.
Wool
Either lambswool or sheepskin, seat covers of this type are more a decoration appliance than protective equipment. Because of their specific fibers, lambswool seat covers for cars are really comfortable for sitting and can make you feel as if you were floating while driving. However, they are difficult to clean and maintain. Let's not even talk about how much time you'll need to clean spilled cup of coffee.