The Unique Charm of a French Provincial Dining Room
Tuesday, 30 May 2017 08:08
Ava Anderson
The French are people that have perfected the term "quality dining". But the quality is not confined strictly to their mouth-watering dishes and sweet wine; it's ingrained in the whole dining experience. From the furniture, to the surrounding spices and ornaments. The leisurely atmosphere is designed to make you want to savour delicious meals over long talks with family and friends.
The leisurely pace of French dining may or may not be your cup of tea, but you won' be able to stay indifferent to the rural charm of French Provincial dining room style. Lovely colours and causal romantic feel – this room is designed to make you want to linger longer. Take a look at how you can create the unique charm of a French provincial dining room in your very own home.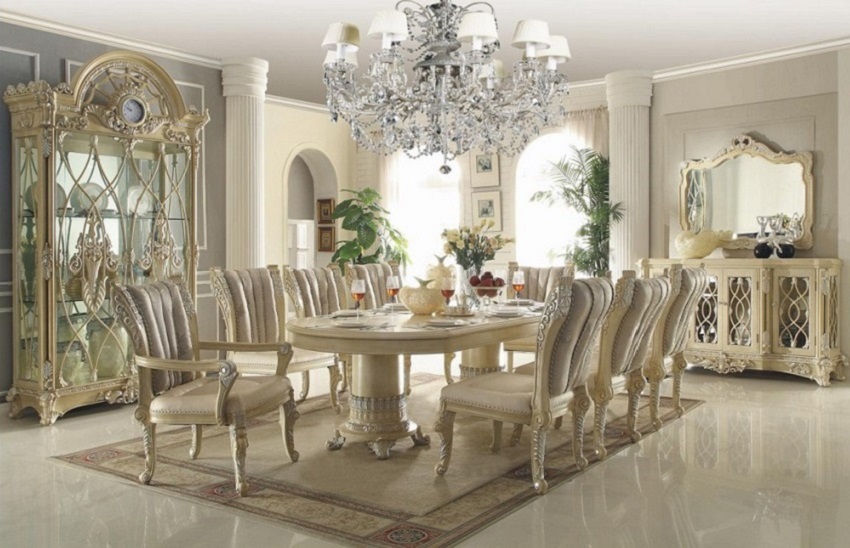 Sit and Dine French Style
The unwritten rule set up by traditional French country houses says that the ideal French provincial dining table needs to be constructed out of raw natural materials. Oak, maple and even cherry timber are very popular materials for dining tables. Whether it's handed-down, or entirely new, this dining table should be embellished with smooth and worn out edges which will convey the unique rustic charm.
Regarding size, go as large as the room allows you to. French dining is all about family, therefore the dining table should be as wide to seat the entire family plus friends. Distressing and scratches will convey a more homely feel, making the table look as if it lived through hundreds of family gatherings.
Colour-wise, go for natural tones such as brown, cream or white. White in particular can give the room a certain air of freshness making the dining experience even more enjoyable. This colour also gives enough freedom to play with bright colourful table decor. The colours of the French provincial style are a reflection of the fresh landscape of Provence. Include some lavender purple, green, turquoise and even yellow in the form of a tablecloth, vase or other ornaments which can give the French provincial dining table some vibrancy.
As for the chairs, this style allows for a certain level of boldness as long as it remains tasteful. For instance, you can create a contrast to the smooth white table with some chairs made out of rattan. And for more seating comfort you can spice the chairs up with some seat covers or throw pillows in organic patterns and earthy colours. If you want even more seating space to squeeze an aunt or two, benches and banquets are a great way to do so and fit in perfectly with the cottage motive of Provincial dining rooms.
Fill the Room with Hints of Provence
The finishing note to the whole French provincial symphony are the décor pieces. Without them the room will seem just like any old cottage house. Depict refreshing countryside scenes in wooden frames hung on the walls. This is also a great opportunity to let your creative spirit shine with some DIY frame designs because this style calls for things to be handcrafted.
The rustic French appeal can be best conveyed in aged ornaments that were once functional tools such as a rusted garden fork in one corner of the room, handwoven baskets under the table, and even old brass kitchen utensils sitting on the counter. Just don't forget the most characteristic element of all that will make people immediately exclaim Provence!, and that's the rooster. You can put it up as an ornament, as a salt container or just embellished on the chair cushions.